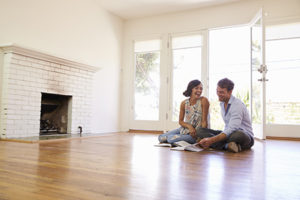 Looking for a new home can be a pretty exciting task. With that much money on the line, it's worthwhile to understand the process before you set out. As a first-time homebuyer, proper guidance from seasoned professionals, like us, can make all the difference. In addition to the tips below, contact us for a free Home Buyer's Guide, which explains the home-buying process, step-by-step.
Here are a few tips first-time buyers can take when trying to find their first home:
Determine what you want – This is the most important part of your preparation. You are about to enter a shopping experience that is unlike any other. At times, it can be stressful and difficult. Get clear on what you really want and what you are willing to compromise on. This will make your home shopping experience much more efficient.
Do your research – Much of the information you need is at your fingertips. Go online and find the areas you want to live in. Narrow down the neighborhoods you want to consider to three or four, and focus on those. Learn about the cost of the things you really want and the cost of the things you can do without. The more knowledgeable you are, the better you will be at negotiating a good deal.
Talk to a lender – Preparing to get a mortgage in advance of your actual purchase will be super important. Before you start looking at houses you should have a discussion with your lender, who will be able to give you an honest assessment of what your finances look like, how much house you can afford and what your rates will be. You want to know all of this – what it will really cost you – before you start looking at homes you can't actually afford. Find out what your monthly payment will be at different price points and determine what you want your personal limits to be as well (depending on your credit, the lender may be willing to give you far more than you need). Once you are looking at homes in earnest, be sure to get pre-approved by a lender. If you are competing with other buyers and are not financially prepared, you could lose out on your dream home!
Think about the future – Is this going to be a starter house that you will move out of in five years? Is it going to be the home for your new family that you will be in for 10 or 20 years? Your long-term plans will help dictate your purchasing choices. It is important to understand what you really want this home for before you sign papers and spend money. One of the biggest mistakes first-time homebuyers make is not thinking about their long-term plans.
Hire a good REALTOR®– A good real estate agent is invaluable when shopping for a home. We will talk to you about what you want in a home and will help you find the houses that match what you are looking for. We are also effective negotiators, meaning that you will probably get more house for your money than if you went at it alone.
Set a timeline – You will want to set a timeline for when you will find and buy home – a timeline that reflects your realities. If you have bad credit that needs to be cleaned up first, for instance, you will need to spend some time working on that before you actually start house hunting. If you need to move right now, that is another factor in your timeline. Give yourself some restrictions so you will be encouraged to move at a steady pace and get the job done. Hunting for a house can be quite stressful and it is not something that should be drawn out any more than necessary. Determine what you want, work with a REALTOR®, and buy your home as efficiently as possible.
Understand your fiscal responsibility – Another problem that first-time homebuyers don't always properly think through is the financial responsibility of owning a home. A large number of buyers will think about making their mortgage payments and nothing else. If you have been renting for a while, or even living with mom and dad, it is easy to see why this can happen. Unfortunately, owning a home comes with quite a few more additional first-time home expenses that you may not have considered such as appliances, furniture, and even taxes and insurance. These are all important things to consider when putting together your home buying budget.
Use all of the above tips for finding your first home and you will be well on your way to enjoying your new life as a homeowner!