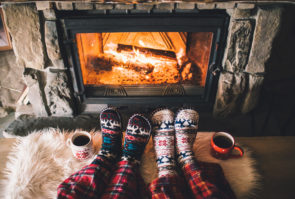 From the city to the suburbs, you can successfully sell your home during the winter off-season. While spring and even summer are considered the "peak seasons" for selling real estate, curious buyers are actually looking year-round. Here are a few things to keep in mind if you're thinking about selling your home this winter.
Take the pressure off with a little advance planning. It doesn't matter what time of year you put your property on the market, as long as you've pre-planned first. Have you thought everything through? Do you have a real estate agent? Have you researched the area you are moving to? Have you purchased a new property? Consider asking your accountant in advance if it would be more beneficial for you to sell your home this year or next year. Whether you are moving because of a new job or simply because you want a change of scenery, plan your move before you receive an offer on your current home. This will take the pressure off, and you won't be forced to react quickly.
Benefit from less competition. During the fall and winter months, there are generally fewer properties on the market, giving your home a better opportunity. With less competition, your home will stand out and won't get lost in the noise. Also, the lack of inventory makes it a great time to sell. While there may be fewer potential buyers, it balances with the low inventory. The buyer pull might diminish, but the quality of the buyer will likely increase – buyers shopping in the off-season are often more ready, prepared and motivated.
Prepare your home to sell. Make your property stand out as the best value on the market. During the off-season, people do not typically tend to their yards like they do during spring and summer. Regardless of the time of year you are selling your home, it is important to maintain the curb appeal. To do so, you should add fresh, dark mulch and landscape your yard even during the cold, winter months. In addition, all photographs should reflect the current season. If you are selling around the holidays, don't overly decorate – keep the holiday décor simple.
The value of your home is based on the market, not the season. As your agents, we can help you price your home right. People buy and sell homes all year round and you will want to price your home based on the competition. If, however, your priority is simply to sell quickly, you might consider reducing the price to attract your buyer.
We can guide you throughout the entire selling transaction, no matter the time of year. From pre-planning to preparing your home to sell, we can offer advice every step of the way. Using our market knowledge and expertise, we can provide you with a custom analysis of your home's value and get your property ready for listing.